Future casino operators will have full access to our platform's administrative panel in order to configure how the online sportsbook and casino website will operate. Some of the main capabilities of the administrative panel are listed below. But before we get into literature, let us show you one of the many super powerful white label sportsbook control panel features: the users graph.
View transaction history, user logs, manage configuration settings and content.
• Content management system – this feature allows operators to customize the content of their website, create pages that include images, text, java and html scripts; operators can add more languages through a complete content translation interface built within our system. By default our software supports 7 languages but we can implement more by request; currency can be configured as well. We support more than 20 major currencies with up to date exchange rates allowing users to change the currency on their accounts with a simple click. A very popular currency in the gambling industry is the Bitcoin which we can implement upon request.
• Odds configuration – our platform incorporates a proprietary rule based odds adjustment system than make it very easy for operators to create, change and enter lines and odds.
• User management module – allows for a detailed search of the user database applying different filters; operators can also delete, suspend or add different types of bonuses for a number of users;
• Security capabilities – in addition to firewalls and content filtering, our platform provides advanced security features in order to detect any attempt of fraud in the early stages. We have designed an automated intelligent risk management application that monitors player's activity on the website in real time, flagging for review suspicious accounts. Another important security feature is the PIN (personal identification number) verification. A PIN is created by the account owner after registering and must be provided during a phone verification check. Additional notifications and alerts can be implemented.
• Transaction listing – through a searchable transaction log, operators can monitor every single action users do on the website;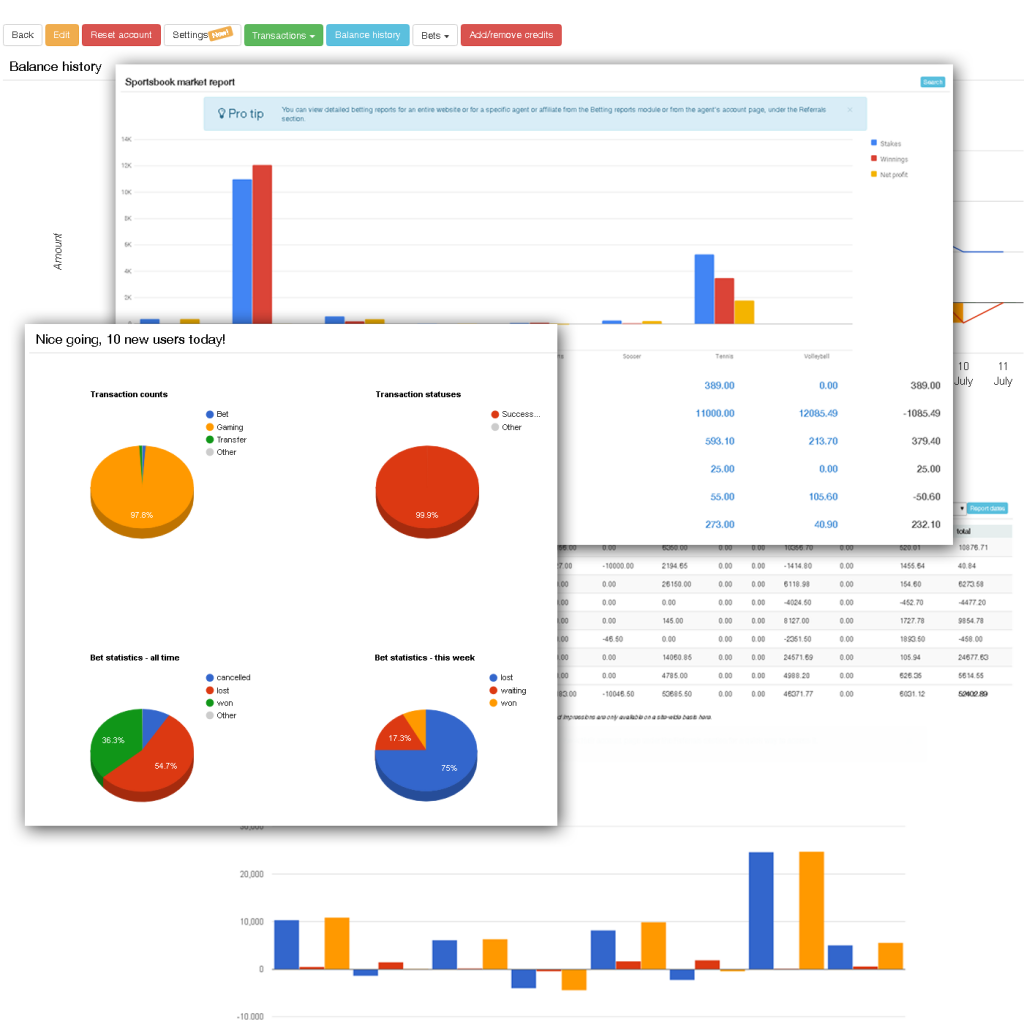 • Event management –the events module provides the option for operators to filter certain events based on sport, league, country or search for specific teams, and between certain dates. Through the module, additional events can be created.
• Risk management – this module is used to specify certain limits on sports, particular events or user accounts;
• Wagering history – is visible through the settlement menu. All the bets and odds are monitored, checked and settled by our team, removing the need for future operators to keep additional staff.
• Casino payout configuration – this module provides a list of all the casino games running on the website. With this feature operators can edit payout settings for a particular casino game.

• Payment processing – our platform supports a diversified variety of payment methods: Moneybookers/Skrill, PaySafeCard, UKash, MyCitadelWallet, Click2Pay, Neteller, UseMyBank, SafeCharge, WallPay, major credit and debit cards, cash payments thorough Western Union and Moneygram, bank wires, Facebook credits, Paypal, SMS and premium phone call
micro payments. We are the only White Label Sportsbook and Casino provider that offers vouchers as a method of payment. Additional payment options can be implemented by request.
• Marketing tools – we provide text links that site operators can use to promote their website, tags, flash ads, banner ads (cookies in order to track the user's affiliate website as well as the user who gets the referral bonus credit).
• Live support application – allows operators to check traffic on main website, chat with customers, transfer customers to different departments ;